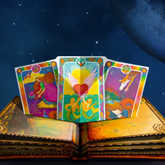 This New Moon Is Lighting a Fire
Be prepared for bold, playful moments with the New Moon and three other planets in Aries

It's time to be young at heart! The New Moon is in spontaneous Aries for the next few days -- along with the Sun, Venus and Mars -- releasing your inner child! Open the door, because innocence is the key to love right now.
We can all get stuck in romantic ruts, telling ourselves -- and our lovers -- the same tired stories. This bold Aries New Moon wants you to break out of patterns that are holding you back. Love doesn't need to be a struggle, especially today...

The Happily Ever After Tarot reading puts a unique fairy-tale twist on the traditional Tarot, revealing the next chapter of your romantic life. The seven positions of this spread connect with your true feelings around your quest for love and help you turn your fantasy into a reality.
The magic of this New Moon encourages a more playful attitude toward love, so open your heart with a Happily Ever After Tarot reading. And remember, you can get your reading at no cost when you use our TrialPay offer.