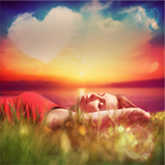 Overcome the Dark Side of Love
Restore your faith in lasting love while Venus is in Scorpio.

Have you ever been hurt by love? Most of us have at some point, and it's not easy to stay optimistic once you've experienced heartbreak. That's the dark side of love. But you don't need to remain jaded when there's a way to start believing again.
To do this, you need to look deep within yourself, overcome negative feelings, and let go of past heartaches. That sounds intense, right? Well Venus just moved into Scorpio today -- the most intimate sign of all -- so now's your chance to finally reclaim your optimism about love. Are you ready?!

The Happily Ever After Tarot helps you recapture your faith in romance. Using images and lessons from classic fairy tales, this exclusive spread takes traditional Tarot to an inspired new level. Your reading explores the past, present, and future of YOUR love story, with an eye toward keeping the lessons simple and pure.
Remember, the first step toward finding love is believing you can! Get your Happily Ever After Tarot reading now to let go of the past and reimagine what your story could be. You can even get it at no cost today when you use our TrialPay offer.