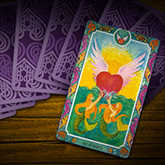 This Won't Happen Again Until 2022...
Venus Direct in Capricorn is the best true love opportunity for years!

Pay attention to this true love story: Venus just turned direct in Capricorn, which won't happen again until Jan. 29, 2022. Why is this so significant? Because this is the most potent planetary placement of all to help you build a loving relationship that will last!
Venus Retrograde has been sabotaging your love life for the past six weeks, but now -- with Venus moving direct in the sign of serious commitment -- you have a rare opportunity to take your relationship to the next level! So, don't miss this chance to...

The Happily Ever After Tarot reading is the best tool to use when you want to write the next page in your own love story. This exclusive spread by Tarot scholar Isha Lerner combines the romance and magic of fairy tales with real-life relationship insights. Your reading explores the past, present, and future of your love's path, helping you understand all the complexities of your heart and your relationship patterns in pure and simple terms.
Remember, Venus Direct in Capricorn is the greatest opportunity you'll have for years to create lasting love! But this potent energy won't last long, so get your Happily Ever After Tarot reading now. You can even get this romantic reading for free with TrialPay.