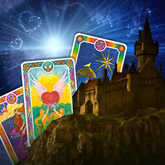 Don't be mislead in love...
The Happily Ever After Tarot reading opens the doorway to fairy-tale love

We all have dreams and wishes, but knowing when you have the best chance of making them come true can be a challenge ... especially this week while Venus, the planet of desire, is under the influence of misleading Neptune. You can have a lot of fun with your fantasies now ... as long as you don't get too carried away!
You see, this planetary alignment has a way of emphasizing the good things, while ignoring the hard work and faith that are required to make relationships last. Real, lifelong love is still possible ... but you must belief in its magic.

Our one-of-a-kind Happily Ever After Tarot reading from Tarot scholar Isha Lerner combines the romance and magic of fairy tales with powerful relationship insights. This 7-card spread is an intimate way to understand your excitement, curiosity, or uncertainty around a current relationship ... or one you are dreaming about.
Avoid kissing a toad this week! Instead, find true love with the wisdom and encouragement from your Happily Ever After Tarot reading. And thanks to TrialPay, you can get this reading at no cost.