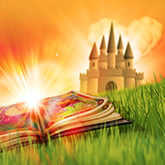 It's Not Over Yet...
You can still have a fairy tale summer romance!

Admit it, you're a sucker for a sappy love story. I am, too -- especially in summer, when romance is in the air and happy lovers seem to be everywhere. But believe it or not, people like us who believe in fairy tale romance can be some of the most critical cogs in the universe's grand plan for love!
During these sultry summer days it's easier to be optimistic and enthusiastic about love. But what's hard is stifling the voices of self-doubt in your head. To have true love for yourself -- and make it last beyond the summer -- it must be earned. So are you ready to fight for it?

The Happily Ever After Tarot reading is the best tool to create your own personal fairy tale. Using images and lessons from classic fairy tales, this exclusive spread by Tarot scholar Isha Lerner takes traditional Tarot to a magical new level. Your reading explores the past, present and future of your love's path, with an eye toward keeping the lessons simple and pure.
Remember, the universe needs people like us to keep love alive. So embrace your summer love and make it last forever with a Happily Ever After Tarot reading. You can even get it at no cost today when you use our TrialPay offer.