NEW MOON: Tonight Is Your Chance...
Don't miss this opportunity to find real happiness!

Happiness is ALL about how you look at things ... especially in matters of the heart! Whether a romantic situation is a problem or an opportunity is a matter of perspective. The good news is: You have control over your outlook. And tonight's New Moon in fair-minded Libra can give you a fresh perspective that could be the turning point in your love life!
New Moons are the most exciting phase of the lunar cycle because they clear your mind and heart to begin new things with optimism! With tonight's New Moon in the balanced sign of Libra, you'll have the opportunity to change the way you look at your situation, overcome issues, and move toward true love with an open heart. Here's how...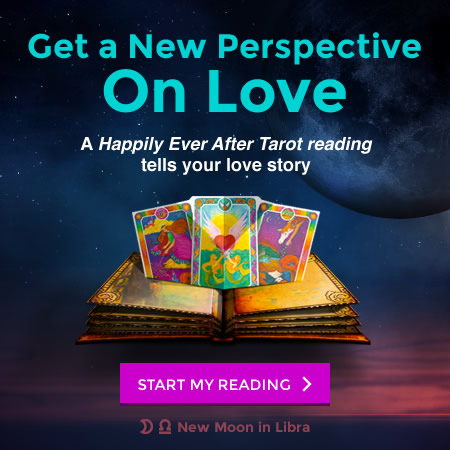 The Happily Ever After Tarot reading is a unique fairy-tale twist on the traditional Tarot, designed to help you make the most of the next saga of your romantic life. The seven positions of this spread connect with your true feelings and needs in your quest for love, and help you get a better perspective on how to turn your dreams of happiness into reality.
This New Moon in Libra can begin a whole new chapter for you, so take the first step today with a Happily Ever After Tarot reading. You can also get this reading at no cost when you take advantage of a TrialPay offer.