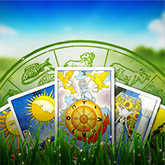 New possibilities are here...
Spring awakens new opportunities as Sun skips into Aries

You have reason to be optimistic this week! Spring Equinox is March 20, and on this first day of spring the Sun shines equally on us all. We'll have bright ideas and renewed energy now, but if you want to get results you'll need to keep the momentum going!
Fortunately, this is also when the Sun charges into Aries, calling us into action. You can use this vigorous energy to take a big step forward. But before you get moving, you need to make sure you're aware of all your options. Here's how...

A Horoscope Tarot reading is perfect for starting this new cycle because it gives you a full-circle view of your life and all its possibilities. By combining the power of Astrology and Tarot, with one card for each of the 12 houses, you get insight on every issue -- love, career, health and more. It shows you exactly where to put your energy, empowering you to grow!
Celebrate your unlimited potential this spring with a Horoscope Tarot reading. Use it to make this your best Astrological New Year yet! You can even get this reading at no cost thanks to TrialPay.