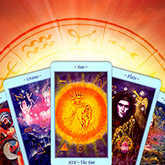 ASTRO ALERT: The Biggest Event of the Year...
How will the Cardinal Grand Cross affect you?

Tomorrow is the BIGGEST ASTROLOGICAL EVENT of the year! The Cardinal Grand Cross, an alignment of Mars, Jupiter, Uranus and Pluto, is extremely rare and has more power for shocking upheaval than anything we've seen.
According to astrologer Maria DeSimone, this cosmic equation "will be the catalyst leading to the birth of something remarkable in your world." The Cardinal Grand Cross could tear you down, but may also be the pivotal event that takes you to new heights! Just remember -- no pain, no gain. The next few days could be difficult, but we are giving you double the insight today to ensure this is a MAJOR win...

A Horoscope Tarot readinggives you a full-circle view of your life and all its opportunities, so you can use this epic astrological energy to your advantage! With one card for each of the 12 houses, you get insight on every issue -- love, career, health and more. Use the combined power of Astrology and Tarot to focus on coming changes in all areas of your life.
Use the Horoscope Tarot to get a comprehensive view BEFORE the transformative energy of the Cardinal Grand Cross takes over! You can also try this spread at no cost thanks to TrialPay.