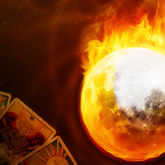 Full Moon in Aries: Don't Get Burned
Plan and execute a new, powerful beginning with the Horoscope Tarot.

Some days it feels like I go from one disappointment to another. No matter how hard I try, I never seem to have the fire and passion needed to extinguish this drama in my life. Well tonight's Full Moon in Aries is going to change all that.
During this fiery Full Moon, we're finally going to have a chance at a personal victory. How? It's no secret that Aries energy is bold, and when you couple it with the emotional intensity of a Full Moon, you're going to feel unstoppable. But BE CAREFUL, taking on heated battles is tricky, and if you don't have a plan of action, you might get burned.

The winning strategy for tonight involves knowing the big picture. By combining the power of Astrology and Tarot, this Horoscope Tarot reading offers a complete look at your life from love and work to family, money and more. You'll chose 12 cards, one for each of the astrological houses. As you learn what it is you need to avoid and where you need to put your energy, you'll become more powerful than ever.
Use, don't be consumed by, the passion of this Full Moon. Get yourself ready for victory with the Horoscope Tarot. And you can get this reading at no cost when you take advantage of ourTrialPay partner offer.