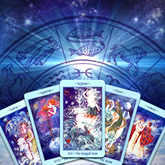 Something Huge is Happening
Awaken your best self as Neptune continues through its home sign of Pisces with this...

Good news ... hope is here! Why? Because dreamy Neptune is still strolling along in its home sign of Pisces. And I say strolling because it's going to be there until 2025. Until this year, these dreamers haven't seen each other since 1862 (except for a brief stint in 2011)!
Neptune rules our ideals, dreams and hopes, and Pisces, our compassion. When they get together, they have the power to break down individual and global boundaries. Progress and hope are brimming during this magical period. However, this optimism will remain just a "dream" if we don't nurture this seed of hope into action. That's where the Tarot comes in...
Now is the perfect time to get a complete assessment of issues that are trapped or stagnant. What are you feeling hopeless about? Identify the areas you want to renew and replenish and ask the Tarot. The Horoscope Tarotcombines the best of Tarot and Astrology to help you understand your mental and physical blocks from a symbolic and astrological angle.
Use the Horoscope Tarot and the transformative energy of Neptune in Pisces to replenish your spirit and prepare for a new phase in your life. You can even get this reading at no cost by signing up for aTrialPay partner offer.