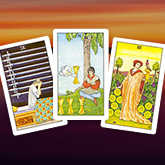 You CAN Have a More Positive Future!
Don't let bad karma hold you back! Improve your future prospects now

No one's perfect. We've all done things we're not proud of, so we all have a little bad karma. But you have all the power today to decide what happens tomorrow!
Being kind is a start, but it's not enough. To avoid having your bad karma come back to haunt you, you need to make peace with the past and take action in the present. You get what you give, so find out where your karma currently stands and how to make it better NOW!

A Karma Tarot reading connects you to your intuition to get from where you are to where you want to be. This 5-card reading looks at the karmic energy of your specific problem or circumstance from every angle, then helps you take action to change it. Get the advice you need to make the right decisions for your future, and change your karma from bad to good!
Remember, you are in charge of your own fate, and you can change it! Get your Karma Tarot reading now and start making peace with the past. You can also get this positive insight for free with TrialPay.