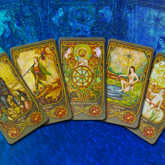 Sun in Scorpio: Unlike Any In 30 Years
Understand and overcome the depths of your issue with a Karma Tarot reading

The Sun's just moved into the transformative sign of Scorpio, but that's not all... For the first time in 30 years Saturn, the planet of karma, is also in Scorpio, making it more important than ever to take action and put our karma to work for us. Why?
At its most basic level, karma is defined as an action or choice that is the root cause of an entire cycle of events. Good or bad, karmic energy is all around us, influencing the outcome of life's choices and challenges. Right now with both the Sun and karmic Saturn in Scorpio, you can take control of this energy and get to the root cause of whatever issues you're facing. Here's how to transform your life...

The Karma Tarot reading was designed to dig deep into the core of any issue by studying its past karmic baggage. As you choose the cards, this reading translates the energy from your past, present and future, and gives you advice on how to move forward with greater success. By understanding the karmic lessons associated with your issues, you can change the course of your past and transform your future for the better.
This double-whammy-Scorpio shift is at its most potent right now! Take action and transform your future with a Karma Tarot reading. If you prefer, get this reading at no cost when you use TrialPay.