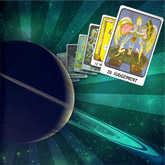 Saturn says don't give anything up today!
Attract more abundance to your life while Saturn trines Mercury

Don't give anything up today! Saturn, the planet of Karma, is making a positive connection with Mercury right now that can help you attract more abundance to your life. Think of Saturn as the wise elder who says if you are willing to do the work, you will be rewarded!
Right now, Saturn trine Mercury can teach us how to solve the problems that are holding us back from getting all the things we want. But before you can learn Saturn's lessons, you need to examine the current state of your Karma. Here's how it works...

Remember, we are all in charge of our own Karma. And we can improve it while Saturn is trine Mercury! A Karmic Situation Tarot reading looks at the Karmic energy of your specific problem or circumstance from every angle, then helps you take action to change it.
You can get more out of life, whether it's love or health or wealth. Just do your Karmic Situation Tarot reading while Saturn is working in your favor!