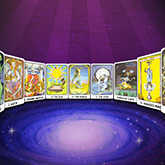 Surprises Are Likely to...
Avoid making a reckless move as the Sun squares off with Uranus

Change is in the air! The Sun is squaring off with Uranus, the planet of surprises, and it's pushing us to make an unexpected move. But before you take any action, it's important to think things through so you don't do something you'll regret.
Taking action on impulsive decisions can impact your karma -- for good or for bad. But thankfully you do have a choice in how you move! Use this potent energy right now to influence the course of your life and...

The Karma Tarot reading connects you to your intuition to get from where you are, to where you want to be. This 5-card reading helps you understand your current position in life, providing guidance so you can make the right decisions for a positive outcome. Get the advice you need to move forward with balance and wisdom!
This potent square between the Sun and Uranus puts you at risk of making a snap decision, so take the reins and build a better future with a Karma Tarot reading.