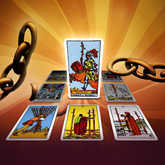 THIS Could Be Getting In Your Way...
Break free from unhealthy patterns with the power of Tarot

You've ALMOST made it through the most difficult period of 2014. With the transformative energy of the Cardinal Grand Cross behind us, you can take a deep breath and focus on the NEW you. These past couple weeks have been tough, but it's vital to keep moving forward!
Don't get stuck repeating unproductive patterns -- let yourself start fresh by removing old routines that no longer work from your life! With a little guidance, you can open your mind and embrace this new phase with confidence...

Our Life Cycle Tarot readinglooks in-depth at your past, present, and future -- so you can identify all the patterns that may be holding you back. Based on the sacred number 9, this 9-card spread then gives you advice on how to apply new ideas and overcome personal obstacles so you can take positive steps toward a better you!
Bad habits are easy to fall into ... we all do it. But you can break those old cycles and start anew with help from a Life Cycle Tarot reading.Or take advantage of a TrialPaypartner offer to receive this reading at no charge.