It's 9/9: Today Is THE Day!
Use today's epic "9" energy to illuminate your mind, body and soul.

Today is a triple-fantastic day! The date is 9/9, which brings an extra dose of illuminating "9" energy with it. And this is made even stronger with the Full Moon in expansive Pisces, and the Sun now in Virgo, the zodiac sign associated with the number 9! So what does this mean for you?
With today's pile-up of positive energy, your awareness is greater than ever. With the right insight, you can access your higher mind to gain the wisdom and awareness you need to make positive and influential life changes. Use the bright energy of the 9 to light your path forward...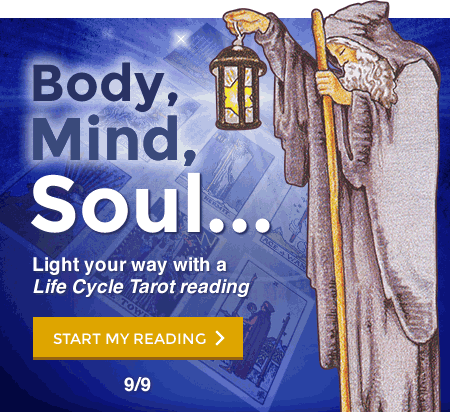 A Life Cycle Tarot reading is the best tool to leverage the helpful energy of the number 9 now! In fact, this spread was designed using the geometry of the 9 because it's considered such a lucky number in so many cultures throughout history. Each card in this 9-card spread hones in on aspects of your past and present situation, identifying what is keeping you in less productive cycles -- body, mind and soul. It gives you advice and confidence that will light your way to a brighter future!
Don't miss today's unique opportunity to make a transformation! Get your Life Cycle Tarot reading now, and use the 9's worldly wisdom to change your life. Or get this reading at no cost when you use our TrialPay.