Solar Eclipse: Don't Miss the Magic...
Use this Solar Eclipse energy to illuminate your mind, body and soul

Get ready for the powerful Solar Eclipse AND super-potent New Moon on October 23! Solar Eclipses are extraordinary, and this one is even more so because it's in the transformative sign of Scorpio. The energy from these potentially life-altering events will open you up to new experiences and awaken your desire to explore the world around you.
Solar Eclipses hold a magical influence over your imagination, creating endless possibilities. This particular eclipse is offering a rare opportunity for you to let go of what's not working and create space for new beginnings. Let the Tarot reveal what this means for you...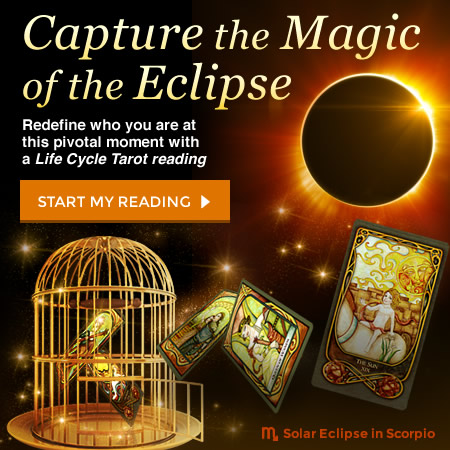 The Life Cycle Tarot reading shows you the path to the future you want, no matter which area of your life you choose to explore. This 9-card reading presents interpretations that are easy to understand and apply to your life. And you can reference your reading from your journal any time. Select from more than 40 Tarot decks to personalize your Tarot reading!
Now's the time to open the door, let go, and embrace magical new possibilities! Use the Life Cycle Tarot reading to make the most of this potent eclipse energy. It won't even cost you a dime if you take advantage of a TrialPay partner offer!