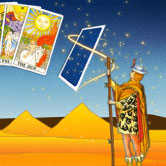 Stop Hiding from Your Life!
Take control of your future as the Sun bursts into Aquarius

It's time to come out of hibernation! When the Sun blasts into visionary Aquarius tomorrow, it kicks off a mentally active and social new cycle. This is your chance to come back out, reconnect with the world and see your life in a whole new light.
If you've been feeling the mid-winter blahs or a lack of excitement about your future, this burst of Aquarian brain power and clarity can truly change your perspective. But first you need to override negative thinking so you can embrace the bright future waiting for you. Here's how...

Our Life Cycle Tarot reading was designed to give you more control over your life by observing your patterns and possibilities. Each card in this 9-card spread specifically hones in on aspects of your past and present situation, identifying all the things that may be holding you back. It then gives you the advice and confidence to take your next steps toward a more complete future!
The innovative Sun in Aquarius is your chance to shine. Bring your vision to life today with a Life Cycle Tarot reading! Or get this reading at no cost when you use our TrialPay partner offer.