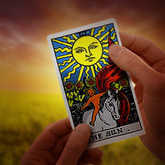 Sun in Aquarius: Take a Chill Pill
Right now we are going to have a chance to get our emotions under control and finally make good decisions!

Life's challenges come in cycles. But when you're in the throes of emotions, it can really seem as if you will never feel whole again. Well today the Sun is entering logical Aquarius, giving us an astrological Valium of sorts -- and letting us feel more level-headed and optimistic about our future. This is good news because...
Operating out of emotion is always risky business. So many bad decisions are made when we are unable to separate our feelings from our rational self. That's why we need to take advantage of today's burst of Aquarian energy! We need to learn from the past, release the present and embrace the future. Here's how to do it...

Tarot.com's Life Cycle Tarot reading was designed to give you more control over your life by observing your current emotional cycle. Each card in this 9-card spread specifically hones in on aspects of your past and present situation, identifying what may be causing you to stay in a less productive cycle. It then gives you the advice and confidence to take your next steps toward a more complete future.
Today there is finally light at the end of the emotional tunnel. Get your Life Cycle Tarot reading and see the future that awaits you.