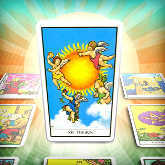 Spring in to Action
Life Cycle Tarot brings clarity for positive change and new beginnings.

Today is the Spring Equinox, and the first day of a New Astrological Year! This means winter is over, and the zodiac cycle begins anew now. Spring is a season of growth and rejuvenation -- and "New Year's" is a time-honored occasion to make adjustments in your life!
Enter this bold new stage prepared to break unhealthy patterns. We all have areas in our lives we want to improve and, with a little direction, you can jump right in! Start the New Year with new insight...

The nine positions of the Life Cycle Tarot readingwill give you an in-depth look at your life's patterns and prospects. Based on the sacred number 9, it provides a view of your past, present, and future at three depths: body, mind and soul.
Take advantage of the Spring Equinox's positive energy with a Life Cycle Tarot reading. You can also get this reading for free, thanks to our TrialPaypartner offer.