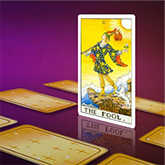 Exhale -- Mercury Retrograde No More!
Take advantage of this fresh start with inspired direction.

Did you hear that? It was the collective sigh of relief as Mercury Retrograde nears the end. After three confusing weeks of misunderstandings and blocked momentum, Mercury will finally start moving forward -- and so can you!
This is an ideal time to make big decisions and start a new cycle. Efficiency, problem solving, and preparation are all highlighted now, but it's up to you to make this opportunity count!

A Life Cycle Tarot reading can get you moving again. By taking an in-depth look at your past, present and future, this unique spread reveals the people and things that keep you stuck in less productive cycles. With insight on how to overcome self-sabotage and negativity, you can take steps toward a better YOU!
Take advantage of this new phase! Get the guidance you need to move ahead with a Life Cycle Tarot reading. You can even maximize your momentum for free thanks to TrialPay.