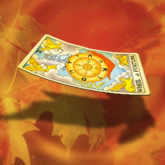 Fall Equinox: What Will Turn
Use the Tarot to tap into your inner balance.

Goodbye, sweet summer. And hello beautiful fall! I absolutely LOVE this time of year because of one reason: it's the start of something new. I always use seasons as a time to let go and start anew. And I think you should too!
But the greatest thing about the Fall Equinox isn't just the changing of the season. Nope, it also marks the arrival of the Sun in Libra. This beautiful, balanced energy really embodies the loving, feel-good attitude of the season right now. That's why I'm looking forward to cleansing, finding a fresh path and beginning my journey to a better, happier me.

A Life Cycle Tarot reading is the perfect spread when change is the name of the game. It looks at your past struggles, future obstacles, and what you can do to effortlessly breeze through them. We get stuck in patterns a lot, so that's why now is the time to get perspective from this reading, set your intentions and go forth to dominate this wind-chilled time.
Fall truly is my favorite season. And whenever I feel the need to shed old habits or feelings and turn toward a brighter day, I reach for a Life Cycle Tarot reading.