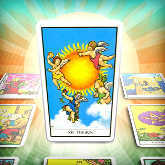 Today marks a major turning point
Make your future brighter with the summer Sun in Cancer

It's time to make a big shift! As the Sun moves into Cancer, it not only marks the Summer Solstice in the Northern Hemisphere, but it also marks a major turning point in your life.
The Sun's entry into Cancer urges us to move our lives forward in desirable new directions. This sizzling summer energy can inspire you to accept brave challenges, undo negative tendencies, and create a more fulfilling future. All you need is the right insight...

A Life Cycle Tarot reading is the perfect tool for taking stock of where you've been, and getting where you want to go. Each card in this 9-card spread hones in on aspects of your past and present situation, identifying what is keeping you in a less productive cycle. It gives you the advice and confidence to take your next steps toward a more complete future.
Seize this chance at true happiness! Get your Life Cycle Tarot reading and use the Sun's fresh energy to change your life. Or get this reading at no cost when you use our TrialPay partner offer.