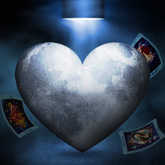 Full Moon in Leo: Time for Passion
You're going to want a Love Celtic Cross Tarot reading to express your love in the right way...

Get ready, because tonight's Full Moon in Leo is putting love in the spotlight! Yes, all Full Moons bring intense feelings to the surface, but this one is like no other. Why? Because Leo rules the heart!
Tonight's Full Moon inspires us to make grand gestures in love -- so giving generously and not holding back our emotions are key. Relationships will be front and center this weekend, so make sure you're prepared with this...
A Love Celtic Cross Tarot reading is the perfect tool to bring you and that special someone closer than ever during this romantic Full Moon. One of the most trusted Tarot spreads, this 11-card reading provides an in-depth look into your relationships, delivering powerful insights, advice, and predictions for your current or prospective romance.
This courageous Full Moon will bring your love life center stage tonight. Prepare for this burst of energy with a Love Celtic Cross Tarot reading. You can even get this reading at no cost with TrialPay.