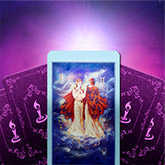 It's the Most Amazing Weekend of the Year
Venus is hooking up with Mars in fiery Aries ... get ready for sparks to fly!

It's not every day the cosmic lovers, Venus and Mars, dance together in the sky. These two hook up in each sign once every two years ... and the last time they met in Aries was back in 1985! When Venus is acting with Mars, passion fires us up, and everyone you meet is attractive.
Today's energy is all about being confident, hot and happy in the moment ... but you may find yourself wondering whether that special someone will still love you tomorrow. The best way to enjoy the immediate, flirty fun of this aspect is to align today's romantic energies with this...

Don't leave this fiery day up to fate! See what the cards have to say. A personal Love Celtic Cross Tarot reading will help you see all of the angles from your past, present and future, as well as the romantic challenges and opportunities.
This alignment won't last long, but the wisdom you'll receive from a Love Celtic Cross Tarot reading will be timeless. And remember, you can get any reading or report at no cost when you take advantage of our TrialPay partner offer.