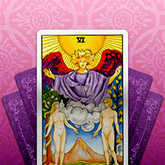 Venus in Libra: Finally know where you stand!
Put an end to your love worries as Venus moves into Libra

Stop wasting your precious time! Love is complicated. And whether single or coupled up, most of us spend too much energy worrying and wondering what's going to happen. "Will I find love?" "Will it last?" "Is he "the one?" It's time to put an end to all the uncertainty!
Venus, the planet of romance, is moving into partnership sign Libra, which is the best opportunity all year to find out where you really stand when it comes to love. If you want a new romance or to strengthen your relationship, now you can stop wondering and finally get answers to all your questions.

A Love Celtic Cross Tarot reading gives you a deeper understanding of your love life and all the different factors at play. This classic spread provides insights, advice and predictions that explain just what is going on and why, no matter how complicated your situation.
Waiting around and wondering can take a toll on your heart, so stop it already! Get answers with a Love Celtic Cross Tarot reading.