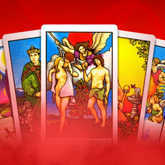 Venus & Mars Call a Truce ... Love's Up for Grabs
Use the Love Celtic Cross Tarot for love advice during this love-heavy transit

Typically when you hear "men are from Mars and women are from Venus," it's in reference to their obvious differences ... but not today! Venus, the plant of love, and Mars, the planet of action, are finally aligned harmoniously -- creating a powerful surge of romance and love! But for how long?
Like many love stories, this planetary encounter is fleeting, but packed with intense chemistry. But though this opportunity for pleasure is brief, with a little nurturing you can keep the love lasting long-term.
A Love Celtic Cross Tarot reading helps you tap into your emotional center by bringing a new perspective to your love issues, and predicting and preparing you for what's ahead. Whether it's a new love or an existing relationship, you can weed through the mixed messages and get to the heart of this brief and powerful love opportunity.