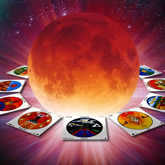 Brace Yourself for Today's Lunar Eclipse!
Let go of old patterns and start anew

Get ready for this! Today's Full Moon is also a powerful Lunar Eclipse in mind-expanding Sagittarius! This urges us to shed our burdens and bad habits so we can move on to new things with confidence. Want to know how to do just that?
It's about centering your mind and soul! It's crucial to unload emotional baggage to make room for new people, activities and ways of thinking. And this Lunar Eclipse is closing in rapidly. Don't miss this chance to clear your energy, expand your vision and make a successful new start!

World famous astrologer A.T. Mann's Mandala Astrology Tarot reading helps you focus your mind so you can discover your own unique path to inner peace and stability. Modeled after the zodiac wheel, this reading fuses the practicality of Tarot with the cosmic influences of Astrology to help you shed unnecessary thoughts and grasp the important ones, just in time for today's Full Moon Lunar Eclipse.
Use this powerful lunar event to give your life a lift! Saturday is World Tarot Day, too, so make sure you're equipped with insight before embarking on your new adventures. Get your Mandala Astrology Tarot reading! now!