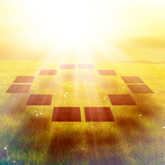 Don't Sleep Through It
This is an extremely spiritual time, so discover a new appreciation for life with this...

Rise and shine! It's happening again. After being rudely interrupted by a retrograde stint in Scorpio, Mercury is moving forward into Sagittarius -- where it is very welcome. And this time around, I'm not going to miss my chance to capitalize on this potentially life-changing energy. Life changing, though? Really?
Really. Master astrologers call this the time of "spiritual seeking." Mercury in Sagittarius encourages the exploration of new thought and perceptions, and even questions old beliefs. Right now if we look at our personal universe from a holistic view, we can discover new inspirations for hope and change. Here's how it works...

By focusing on a 360-degree view of your life, you'll be better able to find a universal solution for multiple areas that may be suffering or unattended to. A Mandala Astrology Tarot reading combines the insight of Tarot with the traditional astrological house system to create a balanced look at how you are managing all aspects of your life -- even those you are avoiding. It's almost as if world famous astrologer A.T. Mann created this spread for times like these!
So while this is the second time this year that Mercury has entered Sagittarius, it happened so quickly last time that we didn't have time to truly appreciate the expansive energy.