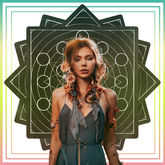 Today's Moon Has a Plan for You!
Use this bold energy to move forward with your resolutions in 2014.

It's the same thing every January. You start out with your list of resolutions -- lose that pesky 10 pounds, call your mother more, figure out what you want to do with your life -- you get the picture. Then life gets in the way, and you start backsliding on your goals. It happens to me, too.
One thing I've learned is that if you want to realize your goals, you need to put together a workable action plan. And with the Moon in action-oriented Aries, now is the time to do just that! This lunar event inspires confidence and bold behavior. It means right now is the optimal time to not only visualize the life you want, but to create the plan to make it happen. Sounds easy enough right?

Created by renowned astrologer and Tarot author A.T. Mann, a Mandala Astrology Tarot reading is perfect for this unique astrological opportunity! This 12-card spread uses Astrology's house system, the magical symmetry of mandalas, and the symbolism of Tarot to help you dig deep and examine your goals from every possible angle. This 360-degree look at your life paints a powerful picture of what lies ahead -- and what may be blocking you from moving forward.
The Moon is in Aries for just a short time, so get your Mandala Astrology Tarot reading now to understand what the universe (and your own inner wisdom) wants you to do ... and then do it!