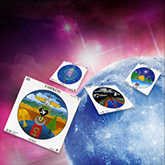 Full Moon Alert! Get Ready To...
Renew yourself for spring with the energetic Full Moon in Virgo.

Get ready for your spring awakening! This energetic Full Moon in Virgo is the last Full Moon of winter, signaling an end to drab days and listlessness.Now is the time to clear your emotional clutter and spring back to life!
This particular Full Moon urges you to shed your burdens and bad habits to make room for new people, activities and ways of thinking. Don't miss this chance to renew your energy, expand your vision and make a successful start to spring! Here's how to...

AMandala Astrology Tarot reading,combined with the practical focus of the Virgo Full Moon, will illuminate the things that are holding you back in every aspect of your life. Created by world famous astrologer A.T. Mann, this 12-card spread fuses the wisdom of Tarot with the cosmic influences of Astrology to provide the most profound insight you will ever experience.
Kick-start your spring transformation! Start yourMandala Astrology Tarot readingnow, while the Full Moon is lighting your way. You can even get this mystical reading for free withTrialPay.