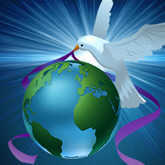 I hope you're ready...
Embrace this period of change with the Peace and Harmony Tarot spread...

Hold on tight, another Uranus-Pluto square is happening today! Since this series of seven squares began in 2012, the world has seen massive shifts, on both global and very personal levels. And it's not about to slow down.
But among all this chaotic change lies great opportunity for positive growth. The challenge is creating enough calm amidst the chaos to see a clear direction. Fortunately, there's an insightful solution at hand...

Prepare for personal change with a Peace and Harmony Celtic Cross Tarot reading! This reading was specifically designed to tap in to the centered, knowing side of your nature. Its ability to expose your potential for growth, renewal, and transformation is unmatched. It's time to align yourself with a higher level to be prepared for today's turbulent energy.
Positive change begins with you, and the place to start is a Peace and Harmony Celtic Cross Tarot reading. Or you can get this reading for nothing when you use a TrialPay partner offer.