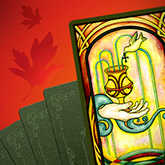 TIME OUT! Today Is Only for This...
Use Tarot to reach a better state of mind.

Time out! It's Thanksgiving, and you need to take a break from your worries and concerns. This holiday is about being grateful for what you have -- period. Of course, it's not always easy to focus on the positive, but if you do, it can make a lasting difference.
It's amazing how many things you can find to be grateful for when you pay attention to the present. But in order to live in the moment and reach that thankful state of mind, you need to make peace with yourself and your situation. First step, the Tarot...

Our exclusive Peace & Harmony Tarot reading is a one-of-a-kind experience that will enhance your awareness of the good in your life, while inviting more into it. This 11-card reading harnesses the wisdom held deep within you, soothing your worries and providing answers to questions logic can't handle!
Gratitude: it truly is the gift that keeps on giving. So get your Peace & Harmony Tarot reading now -- 50% off today only! -- and get priceless insight and perspective to carry you through the holidays. Here's another thing to be grateful for: You can also get this peaceful insight free with TrialPay!