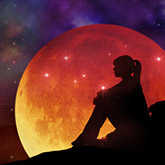 Beware Today's Blood Moon...
Find peace during the chaos of this Total Lunar Eclipse.

Today's Full Moon isn't your average Full Moon! It's a Total Lunar Eclipse -- known as a Blood Moon -- making it twice as potent and guaranteed to bring unprecedented intensity all month.
The energies of this Lunar Eclipse have the tendencies to trigger anxiety and confusion. Don't succumb to these negative emotions -- you have complete control over the way you move through this moment. Say no to the chaos and bring balance back to your life now...

The Peace and Harmony Celtic Cross Tarot readingwas specifically designed to tap in to the calm, centered, knowing side of your nature. Its ability to expose your potential for growth, renewal, and transformation is unmatched, so no matter what happens during this potent Lunar Eclipse, you'll be able to move through it with grace.
Don't let today's intense feelings get the best of you. Use a Peace and Harmony Celtic Cross Tarot reading to find your balance. You can even get this reading for free with TrialPay.