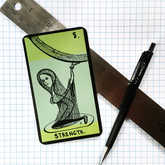 February 2018 Tarot Reading: Creative Passion and Drive
Read your monthly and weekly Tarot readings for February 2018

Last month's reading explored the importance of increasing self-knowledge and bringing together different aspects of self into harmony. This month the Strength card adds to that discussion; being secure in our identity allows us to approach the world with courage, compassion, and understanding instead of fear and aggression. This type of inner strength is often a more helpful resource for navigating the world than brute force. Keep reading to learn more about the lessons the Strength card is trying show us this month...
Jump to any week of February now:
Here's a quick look at the overall spread for February:
Theme Card for February: Strength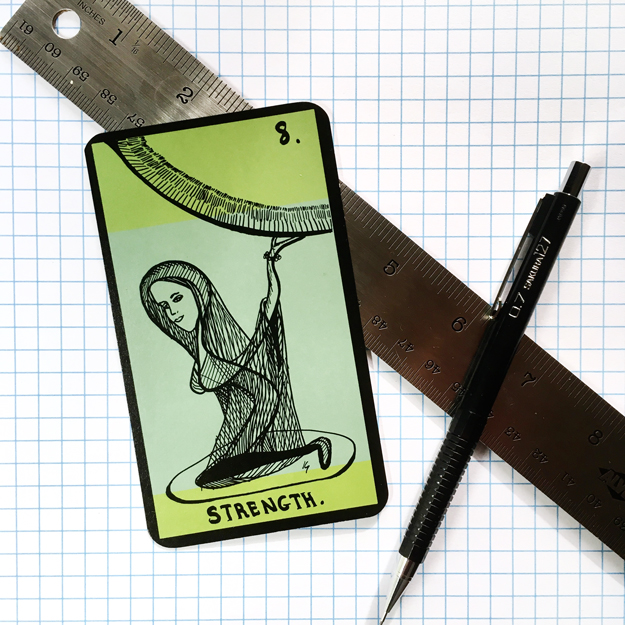 In many decks, the Strength card is shown as a female figure fearlessly opening a lion's mouth or sitting peacefully with some other wild beast, representing the taming of our animal nature in favor of a more graceful approach to living. In this deck's illustration, a single delicate figure extends her hand to support the weight of some huge object, possibly even a celestial body. Her face appears serene, not pained. She does not struggle with this weight, but holds it up with grace.
Sometimes managing all our responsibilities and projects can seem like bearing the weight of the world, but a positive attitude makes all the difference. When this inner strength is active, it feels like there's nothing we can't do, and that will be important to remember this month, especially where creative pursuits are concerned. Each week's card in this spread offers advice for personal development, in particular the application of strength in channeling our passions towards productivity and success. The following cards are nearly all threes and eights, indicating a month of grappling with growth, movement, and progress, but their positions show a need for careful planning. The cards also show a need to pay close attention in interactions with others, and to confront our own negative internal dialogue should it attempt to instill self-doubt.
About the deck
Before we get to specific advice from the cards for the next few weeks, here's a little info on the charming deck I'm reading with this month, the 9th Dimension Tarot by St. Croix, illustrated by Katherine Yurica. This out-of-print 1971 deck is actually a later version of the 1969 Mont-Saint-Johns Astral Tarot deck, which featured Yurica's illustrations in black and white only. This deck uses abstracted human figures in the Major Arcana and court cards, and expressive pip cards for the rest of the Minor Arcana. (Pips are the repeated symbols on the faces of playing cards that display the suit and number of the card. In older Tarot designs, such as the Marseille style, the Minor Arcana were presented in neat arrangements of repeated suit symbols. It wasn't until the 1910 Smith-Waite deck that fully illustrated scenes were popularized for the Minors as well.)
Do your own 10-card Tarot reading now for personal guidance this month!
Now, let's see what the cards recommend for progress in the next four weeks...
Weekly Tarot Card
February 5-11: Eight of Pentacles (reversed)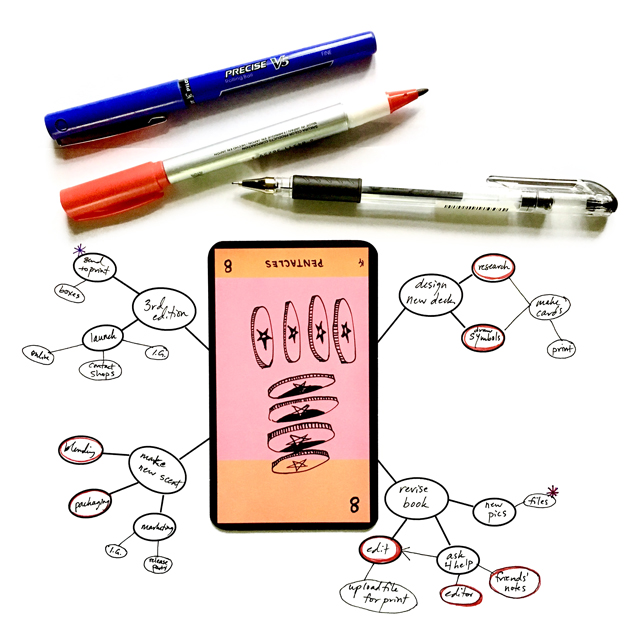 One of the key times to draw upon our reserves of inner strength is when we are feeling a lack of ambition and focus. Especially for creative people, this lack can feel defeating. We must remember that force is still alive inside us; it's just a matter of reconnecting with it. When our drive is weakened, it might also be worth considering how we got to this low point...
Sometimes we trap ourselves by taking on too much. We become exhausted and need extra time to recharge. This doesn't mean that our ability to complete projects has permanently expired, and after a time of rest, it might be beneficial to examine work habits and see if a more moderate but steady pace can be implemented. The Eight of Pentacles, at its best, is a card of consistent diligence and effort rather than a situation of burning the candle at both ends.
At other times, our intense desire to succeed can lead to spinning our wheels. We crave the reassurance of recognition but become trapped by doubt that our work is good enough. If this fear is only in the mind, this month's theme card, Strength, can help us be more reasonable. If we have received constructive criticism from others, now would be a good time to use relevant feedback to make improvements.
We may also become overwhelmed by too many ideas, tasks, or responsibilities, and in the jumble, lose sight of a way to approach any of them. Here's an exercise to corral all the ideas:
Project planning for the reversed Eight of Pentacles
In many versions of this card, the eight Pentacles are illustrated in an orderly fashion, stacked neatly in rows, as this card shows, or even hung up on display around a workbench with a figure actively finishing another piece. YOU are the figure missing from this scene! These Pentacles represent the work you have accomplished and will continue to accomplish if you are able to keep working steadily.
Map it all out with a simple brainstorming exercise. This quick planning session will help you take stock of your creative work. For each major idea or project, brainstorm all the components (actions, materials, etc.) necessary to make it happen. Include everything you've already done, marking those items in a different color. Use this chart to visualize progress and confirm next steps.
Don't consider yourself to be a "creative" person? Sure you are!! You might not be crafting abstract oil paintings in a studio, but you are crafting your life. Find the art in everything you do, and use it to enhance your existence.
Do your own 10-card Tarot reading now for personal guidance this month!
Weekly Tarot Card
February 12-18: Three of Wands (reversed)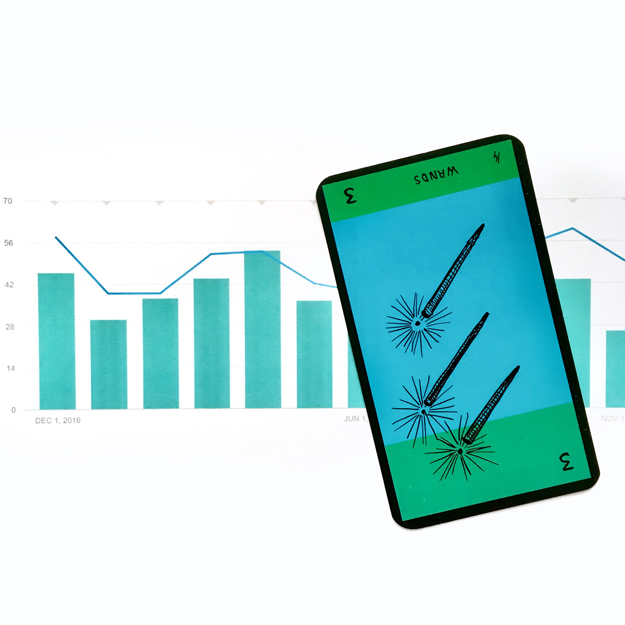 The Wands are the suit of Fire, shown perfectly in this deck as lit sparklers. They glow brightly with enthusiasm, but any spark can start an uncontrollable fire if not monitored. This week the reversed Three of Wands helps us learn how to overcome obstacles inevitably encountered as we put our planning into action. There are a couple ways in which these disruptions might occur. First, we might start to feel out of control again as passion and momentum drive us along into busyness. If we start to lose sight of our goals, we can simply refer to the planning diagram created last week with the help of the Eight of Pentacles, using it as a map for progress, and updating it as we go.
We should also be cautious of unreliable help if we have included collaborators or assistants in our work. It's necessary to have clear vision of the work ourselves before involving others; otherwise the potential for miscommunication is high. If we anticipated support and did not receive it as expected, we can't allow disappointment or resentment to derail our efforts. This month's theme card, Strength, reminds us to exercise compassion and control our temper. Throwing blame around will not get the work done any faster, and holding grudges will only hold us back. This is also true for any missteps we have made ourselves; they must be looked at as opportunities for learning rather than markers of disqualification.
Meditation on compassion for the reversed Three of Wands
Growth is not a constant uphill path. The twists and dips along the way are what refine our abilities and strengthen our resolve, so we should not fear the process. Think back on a mistake you made, either in a current project or at any point in the past when on a path to achieve a goal. How did it make you feel about yourself at the time? What were the consequences? If you still feel anxiety about this error, forgive yourself now. Consider how the mistake occurred and the lesson learned from your experience. How has it helped you to avoid other mistakes since?
Do your own 10-card Tarot reading now for personal guidance this month!
Weekly Tarot Card
February 19-25: Three of Pentacles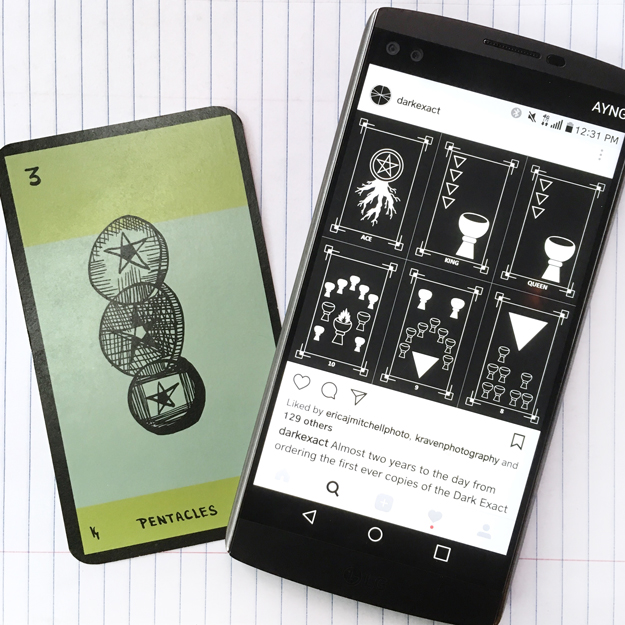 The Three Pentacles in this card's illustration appear as crafted objects, each one a unique, well-executed design, turned to the front so we may have a clear view of the artist's work. After overcoming self-doubts and other setbacks, it's time to let others see the progress we've made. We've mastered the necessary skills and honed our creative thinking. Putting that to the test by showing our work is one of the challenges artists face when honing their craft. Receiving recognition for our work builds confidence and makes us want to persist. The Three of Pentacles could also be considered a card of teamwork in a way. Patronage by others increases potential by supplying various forms of fuel needed to keep the work going. Even if we ultimately create for ourselves, finding some way to mark or measure personal progress can keep inspiration alive.
Exercise for the Three of Pentacles: The big (or small) reveal
This week, find a way to show others what you've been working on. This could be anything from a formal exhibition, an open studio (interpret that term loosely so it applies to whatever you do!), a gift to someone, or even a blog/social media post. If what you have to show is not the finished version, label it as a work in progress, and allow the experience to help you later refine further based on feedback from others and your own refreshed perspective achieved through seeing your work in a new context. Tell others why you do what you do; this will provide interesting background for viewers (or listeners, readers, tasters, users, etc.) and will also remind you of the passion that motivates your efforts.
When you receive feedback, absorb it. Accept the compliments and believe them! Acknowledge the criticism, if any, with the grace of this month's theme card, Strength. There's no need to be defensive; critique is often what helps us move to the next level with our creative work.
Check out what others are up to online as well. Many people use hashtags like #workinprogress or #wip when they show their projects to get feedback and encouragement from the community.
Do your own 10-card Tarot reading now for personal guidance this month!
Weekly Tarot Card
February 26 - March 1: King of Wands (reversed)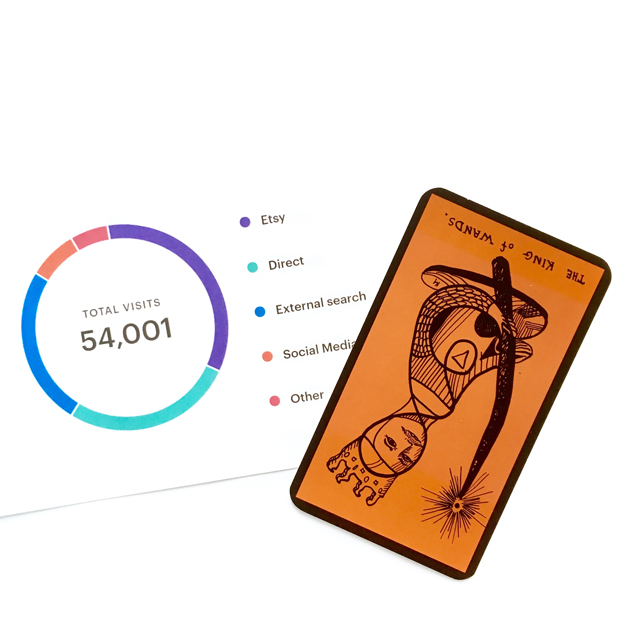 Very appropriately, the reversed King of Wands supplies advice this week for sustaining long-term progress. We've been dreaming big, and that's fantastic, but it's also important to test the practicality of our goals so that we have the best possible chance of seeing them through. Much of this depends upon our attitude; this King warns us to not be unnecessarily critical. If we are too stern, too serious, and single-minded, it takes the fun out of the work. We might find ourselves back in that stalled place we faced in previous weeks with the reversed Eight of Pentacles and reversed Three of Wands. One way to make sure attitude does not become an impediment to success is to find ways to measure progress that are objective and external, and provide clear paths of action.
The King of Wands, when reversed, has lots of misdirected passion. The Wands are linked to the element of Fire, but when that metaphorical fire is allowed to burn freely, it can get out of control fast. We don't want to put it out completely with Water, or smother it with more Earth (since we already had two Pentacles cards deliver grounded advice in previous weeks of this reading). Let's try bringing in Air energy to keep it active, but shift its direction, moving the burn into channels of our choosing. The airy, mental energy of the suit of Swords could help here, so maybe we should ask what the King of Swords would do...
Exercise for the King of Wands: Statistical analysis to control our Fire
Statistical analysis?! I used to hear those words and immediately shut down, but my assumptions about data being boring were so wrong -- it's fascinating and illuminating! The King of Swords, the card that helped us apply logic in last month's reading, feels the same way, and would suggest we collect and examine data to dispassionately determine successes that have occurred, weaknesses that need to be addressed, opportunities for advancement, and peripheral issues that might pose threats. (You can do this type of S.W.O.T. analysis for any type of project, even without hard data.) Once you have concrete information on which to base actions, those actions will be more realistic and improve your chances of success. This analytical approach is yet another show of the type of Strength this month's theme card calls for.
What sort of data should you collect, and what kinds of patterns are important to note? It depends on the type of work you do and what goals you have set for yourself. For example, if you are an artist trying to build a clientele, and you post your creations regularly on social media, look back over the last few months at which posts elicited the most attention from followers in the form of likes and comments. Do you see any patterns in the content that interested people the most? (Yes, I know it is not that simple now that social media platforms don't show posts in chronological order, but I believe there is still truth to be found in examining post engagement.) I'm not suggesting you tailor your work to respond to what others seem to want, but it WILL show you where your efforts are particularly working.
Owners of creative businesses might make a graph of sales over the course of a year (or multiple years) to look for trends in demand. That will help with planning the work flow for the following year. If you use a platform such as Etsy that provides statistics, you can examine all kinds of data. Take, for example, the pie chart of traffic sources to a page. Knowing where your customers are coming from can help you target your marketing, saving you time and resources.
If your creativity is expressed through less tangible means, such as care for others, you probably receive feedback in a less trackable way. Responses to your work are often in the form of silent enjoyment or compliments given fleetingly. How might you keep track of those moments and turn them into useful data?
Looking Ahead
This month ends with a need for balance in passion and approach, a perfect segue into March's theme card, Justice, which encourages us to explore personal alignment further. Self-examination is a constant necessity if we are to keep one side of the scale from tipping too far. It is my hope that each of us can make great progress toward our goals this February, and prove we are capable of meeting any challenges that come our way.
Do your own 10-card Tarot reading now for personal guidance this month!