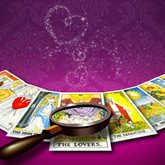 Caution: It's time to get real...
This weekend's Venus-Pluto square says it's time to transform your relationship!

If you've heard the phrase "labor of love," the conditions for it are ideal this weekend! On Sunday, Venus squares off with transformational Pluto, forcing a heartfelt review of all your personal relationships.
When Pluto, the planet of major metamorphosis, plops into your life, it shakes things up and rattles them loose. If you don't do the work to change your relationship's future, Pluto will do it for you. The good news is you can finally release what no longer serves you!
The Relationship Analysis Tarot can be applied to any relationship, and it goes deep into the emotional dynamics that are often operating at subconscious levels. This 10-card spread focuses on personal factors, such as your expectations and standards, as well as advice to help you better give and receive love.
You have a golden opportunity to improve your relationship while Venus and Pluto are so potent. So get started on your Relationship Analysis right now!