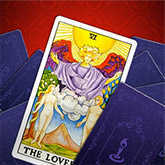 Caution! This Retrograde Could Break Your Heart
Relationships may suffer as the planet of love backpedals.

Oh, boy ... another planet is about to go retrograde! This one's not going to affect our travels or tech gadgets. Nope, this one is going to hit a little closer to home -- our relationships.
And it's all because Venus, the planet of love, will be moving backward through the cosmos for six weeks. It's a time of romantic uncertainty, ranging from unpredictable feelings to brash decisions ... which is the last thing any of us need! So what can we do about it?

Asking the Tarot cards for advice is the perfect place to start when you feel that twinge of chaos about to creep into your life. A 10-card Relationship Analysis Tarot reading digs deep into the current state of your relationship, including the external energies that could have a strong effect on the two of you right now.
Don't let your love life get lost in the shuffle this Venus Retrograde! Get a Relationship Analysis Tarot reading to protect and move your love life forward proactively. You can also preserve your love at no cost when you take advantage of a TrialPay partner offer.