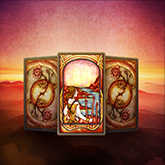 GRAND AIR TRINE: It's Your Only Chance To...
Restore clarity and balance to your love life.
Don't miss this weekend's beautiful Grand Air Trine! The intense mental clarity you'll have during this special event is your only chance all month to get a clear view of your relationship. This is your opportunity to protect your heart while Mars Retrograde is pulling people apart!
Mars, the planet of war and sex, is spinning backward in Libra, the sign of partnerships. This threatens even the best relationships with fights, confusion and mixed messages. So use today's Grand Air Trine to find out what's really going on, and prepare to get through any trouble ahead...
TheRelationship Analysis Tarot readingcan be applied to any relationship, and it will help you understand the deep emotional dynamics that are being disrupted now. After turning over the 10 cards and receiving their advice, you'll know exactly where your relationship stands, where it needs to go, and how to prepare for the future.
This Grand Air Trine can save your relationship! Take a critical look at your love life now, because aRelationship Analysis Tarot readinggives you the insight to preserve it. You can also get this partnership advice for free withTrialPay.