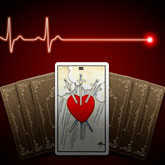 Will you survive January Break-Up Month?
Safeguard your feelings against the cosmos' harsh energy with this insightful reading!

January is often referred to as the "break-up month." Why? Many people rough out fizzling relationships just to get through the holidays without the extra drama. But as soon as the New Year begins, many are quick to clean the slates of love and start anew. But will everyone's relationships suffer?
Right now, the planets are making it even more likely that everyone -- in or out of a relationship -- will feel a shock to the love system. It's because Venus, the plant of love, squares Uranus, the planet of surprise, creating uncertain energy and unsuspecting curve balls. So how can you avoid a relationship flatline? I'll explain...
Using the Tarot to tune in to the universe can help you prepare for any of life's surprises. The 7-card Relationship Potentials Tarot reading is the perfect spread for times when you're unsure of where a relationship is headed, or if you're feeling a happy relationship is losing its spark. Being aware of the possibilities will help you handle it with grace and potentially grow closer to your loved ones.
Relationships are hard enough as they are, and today the planets aren't making it any easier. So avoid shock to the system with a Relationship Potentials Tarot reading now. Or try it out at no cost when you use TrialPay.