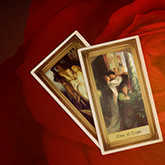 Rocky Roads Ahead for Romance
Romance can get explosive as Venus squares off with Uranus

Warning! Today's tense square between Venus and Uranus could make matters of the heart dicey. It's easy to blame our love issues on the planets, but let's face it, relationships are hard work! So don't give up just yet.
The intensity between these two planets can set off arguments. On the other hand, it can be a great time to get things out in the open. Love is definitely in the spotlight today and there is no hiding from relationship issues. So face them right now with this...

The Relationship Potentials Tarot is the perfect spread to use during this planetary jolt. This 7-card spread takes into consideration the obstacles you are wrestling with and helps determine if you have a chance at a happy future as a couple.
Relationships can be tricky, but you have the power to keep your relationship on track now with a Relationship Potentials Tarot reading.