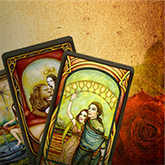 The Planets of Love and Death Are About to Collide!
Use this intense energy to transform your love life.

Sometimes love and relationships can be so difficult I just want to throw in the towel. But let's face it -- when things are going well they are worth the hard work! And I'm not giving up now because we're about to experience a transformational jolt in our love lives.
Venus and Pluto are about to link up in a way that could turn your love life inside out. Intense emotions might even bring an end to things that aren't working. But if you can approach your issues with honesty and an open heart, this transformation could be just what your relationship is dying for!

A Tarot reading can provide tremendous clarity when it comes to relationship issues, but choosing the right spread can be tricky. The Relationship Potentials Tarot is the BEST way to prepare you for what lies ahead. This reading considers all the obstacles and will give you the insight you need to determine if your love is worth fighting for.
Use this powerful Venus-Pluto connection to get your love life back on track!