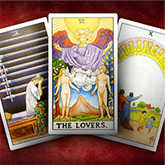 Caution: You're in a High-Risk Zone!
Find out if your love will survive this shocking Venus-Uranus connection.

Love is unpredictable, even in the best of times. But with today's shocking square between Venus and Uranus, romance is entering an especially high-risk zone. Almost anything could happen in your love life now -- either good OR bad!
So, how do you prepare for the unexpected and keep your love life on course? You gather as much information as you can about your relationship! Once you determine your romantic possibilities you can stop worrying and take control.

A Relationship Potentials Tarot reading will prepare you for what lies ahead in love. Each card position focuses on the current obstacles you face, while considering your strengths and weaknesses as a couple. Designed to help you identify and overcome your emotional roadblocks, this spread puts YOU in control of your romantic future!
This is no time to take risks with your heart. Protect your love from this shocking Venus-Uranus connection with a Relationship Potentials Tarot reading now!