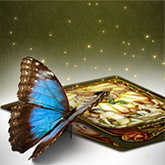 Your Transformation Starts NOW...
Today is your chance to overcome the past and fly free!

It isn't over yet! As hard as last week was, there's more to come. In fact, April is the most challenging month of the year, according to astrologers around the world. But it's also the most transformational, if you're willing to do the work.
It's like the caterpillar struggling to become a butterfly -- the struggle gives strength to the wings so they can fly. Confronting your old hurts and hang-ups now gives you a profound opportunity to heal and grow. It's time to...

A Self-Healing Analysis Tarot reading is the best way to ensure you make a positive transformation during this challenging time. By looking at the influences of your higher self and any internal obstacles you face, this unique 10-card spread gives you profound perspective on how to heal past traumas and negativity. This insight frees you to pursue your strongest path of personal development and potential!
Times of transformation aren't easy, and it's difficult to maneuver when your emotions are stressed. A Self-Healing Analysis Tarot reading can help you realize what you need to let go of to move through this difficult period. You can also get this healing insight at no cost when you use TrialPay.