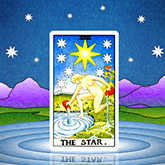 GRAND WATER TRINE: The Stars Are Aligned...
Find hope and healing as Jupiter, Saturn and the Moon align in a perfect triangle!

Hope is here! Jupiter, Saturn and the Moon have aligned in a Grand Water Trine! This stellar three-point alignment has the power to create a healing balance of realism and optimism, lifting you up and carrying you forward with renewed inspiration.
If you embrace the positive energy of this uplifting planetary event, it could lead to big breakthroughs! This is your chance to find closure, evolve, and brighten your life with the support of the universe, so be sure to act on your wishes while...

A Self-Healing Analysis Tarot reading is the perfect tool for making a permanent change and moving forward toward a healthy, happy future. Each card in this 10-card spread is custom-tailored to help you rise to a stronger, better you. It provides rich insight, from the influences of your higher self to inner blocks or obstacles on your path to a bright new beginning!
Don't miss your chance to let this beautiful Grand Water Trine elevate your perspective, with insight from a Self-Healing Analysis Tarot reading! You can get also get this reading at no cost today when you take advantage of our TrialPay partner offer.