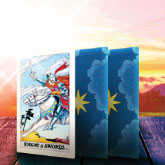 Warning: Action is Needed
Use this boost of positivity to take control of your future.

"Getting over it" isn't always that easy. Sometimes you need help dealing with the obstacles holding you back. Luckily, the approaching Mercury-Jupiter trine is bringing favorable energy for positive thinking and new perspectives!
This alignment is urging you to stop struggling and start living. You deserve to enjoy life. The danger is getting stuck in your own thoughts. So let go of old thinking and focus your energy on a better future today!

Tarot.com's exclusive Self-Healing Potentials Tarot readingis the perfect tool for making plans to move toward a healthy, positive future. This 7-card spread focuses on how your influences and issues affect your potential -- and where your opportunities and challenges lie.
With Mercury trine Jupiter, you'll be able to see the big picture-- don't lose this advantage! Get the Self-Healing Potentials Tarot readingand start anew. You can even get it at no cost with TrialPay.