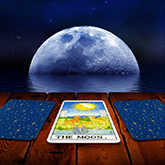 Caution: This Full Moon Has Strong Undercurrents!
Keep yourself afloat in this turbulent sea of emotions.

Get ready to sink or swim! Another Full Moon means it's time to dive deep into emotional waters. But before you take the plunge, I have to warn you this one may require some extra navigation.
That's because this Full Moon is happening in hyper-sensitive Cancer. Navigating your emotions may be difficult now, and even simple situations could turn into dramatic nightmares. Full Moons are short-lived, but their impact can be powerful and lasting. Luckily, I have something that can help on this voyage...

A Self-Healing Potentials Tarot reading is the most insightful spread to guide you through these waves of emotions, with powerful knowledge, advice, and predictions about the life path you're on. This 7-card spread eliminates unnecessary drama by helping you focus on your spiritual potential, and shows you the next steps to take on your voyage of personal growth.
Keeping yourself afloat in turbulent waters isn't easy, and this Full Moon in watery Cancer makes it even tougher. So use your Self-Healing Potentials Tarot reading as a compass to point you in the right direction! You can also find calm in the storm at no cost when you use TrialPay.