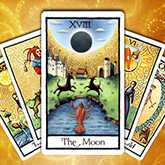 This New Moon has a message for you
Silence your skeptics during the New Moon in Gemini!

Today's New Moon in Gemini is stirring up major mental activity that could make you feel conflicted and out of control. You need to silence your inner skeptic!
The main message around this overwhelming New Moon is to stop your negative self-criticism so you can put your best ideas into action. And I know one way to do this that will put you in control of your future ...
The Self-Healing Potentials Tarot reading is a 7-card spread that reveals the energies working against you so you can overcome them. Once you recognize self-limiting barriers for what they are, you can discard them and commit to bringing your brightest ideas to life!
Don't let this New Moon throw you off course! Use your Self-Healing Potentials Tarot readingto tune out negative feelings and self-doubt.