Mercury Retrograde: Darkness Descends...
Find your way with clarity and insight!

Be warned! Mercury Retrograde has started, making it difficult for you to see what's right in front of you. This disorienting energy can make you feel blindfolded, and captive to confusion and self-doubt. But there's a way to set yourself free!
Mercury Retrograde is known for dredging up unresolved issues that could make you feel trapped, but you're definitely not helpless. You just can't act on blind faith alone. Freedom begins by healing the past and restoring your clear perspective and confidence. But this will only happen if you...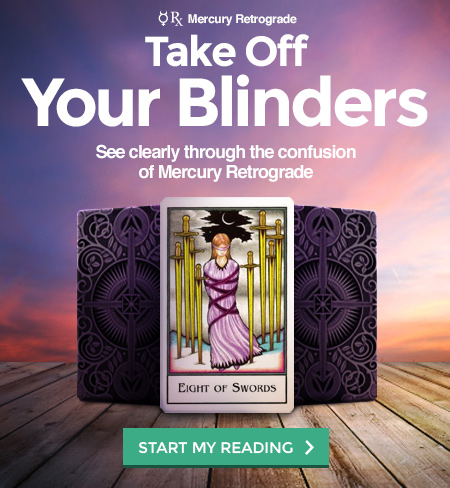 A Self-Healing Analysis Tarot reading is the most insightful way to escape the emotional pitfalls of Mercury Retrograde. By looking at the influences of your higher self and any internal obstacles you're facing, this unique 10-card spread gives you profound perspective on how to heal the traumas of your past. This awareness frees you to pursue your best path of personal development and potential today!
Don't let Mercury Retrograde hold you back. Use theSelf-Healing Analysis Tarot readingto restore clarity and find your way! You can also get this wisdom at no cost when you useTrialPay.