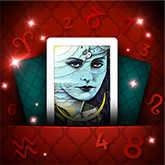 Today's Mystery Moon Reveals Hidden...
Uncover your secret self while the Moon is in profound Scorpio

It's time to go deep. Very deep. Today's soul-searching Scorpio Moon gives you the introspective urge to dig way down into your true identity and reveal things you don't even know about yourself!
With the combined power of Tarot, Astrology, and Numerology, you can tap into a powerful new you! What do your personal Tarot card, planet, and number say about you and where you are going? It's time to find out...

Your powers of insight are tripled with our one-of-a-kind Tarology Card Report. Find out which Tarot card, based on your birth date, is connected with your personality and ambitions. Then read on to discover your personal mission, your most powerful tools, your Prime Number, Power Planet and more.
Don't miss out on the deductive powers of today's Scorpio Moon! Get your personalized Tarology Card Report now to discover the unknown elements of your identity. Or get this revealing insight for free with TrialPay.