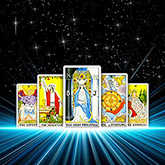 You Are at a MAJOR Crossroad..
This planetary alignment opens you up to great possibilities!

Do you feel that a breakthrough is just around the corner ... but still out of reach? You need a fresh burst of energy to get there! As Jupiter, the planet of luck and mind expansion, aligns harmoniously with the Sun, your opportunity to expand your self-awareness is tremendous.
Take advantage of this short-lived event to energize yourself with the strength, confidence, and motivation to make a fresh start. But before you can take that first step forward, you must reveal your most powerful inner sources of strength...

This one-of-a-kind Tarology Card Report triples your powers of insight with a combination of Tarot, Astrology and Numerology. And in honor of this Sun-Jupiter alignment, we're discounting it 15% off! Your personalized report takes the powerful symbolism of Tarot and combines it with the art of Astrology and Numerology to identify who you are at your deepest core. You'll learn how to put your most powerful traits to use to clear the way toward happiness.
Use the highly charged energy of this Sun-Jupiter alignment to empower your life today! Get your Tarology Card Report at 15% off now. Or, get this report at no cost at all when you take advantage of our TrialPay partner offer.